Cool-Tech Work Gloves - 2 Pack
Cool-Tech Work Gloves - 2 Pack
Item is in stock
Hurry! Low inventory
Item is out of stock
Item is unavailable
Product Technology
Cools up to 2 hours
Sun Protection UPF-50
Chemical-Free Cooling
Overview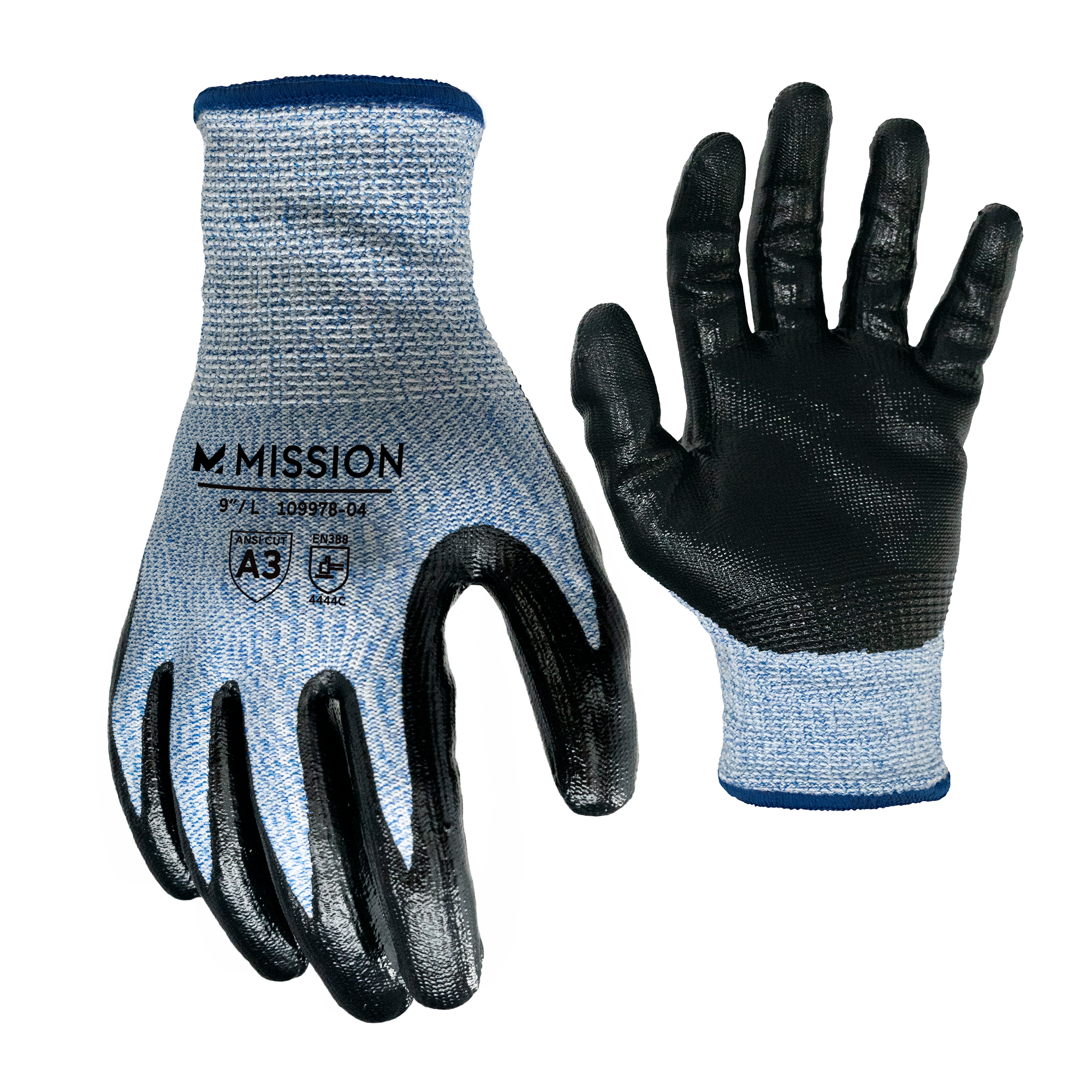 THE DIFFERENCE BETWEEN GOOD AND GREAT

Manufactured with MISSION VaporActive™ Heat-Release Technology that increases moisture removal rates and reduces dry times, helping you stay dry, cool, & comfortable. The technology is permanent and never washes out so you can stay comfortable all day. These gloves are machine washable & reusable.
No matter what kind of "dirty" work you're doing, protecting your hands from the sun, heat & sharp objects has to be a priority. Work gloves help you prevent getting burned or poked — but there are other features that matter, too. Keep your hands safe and protected with sweat and chafing prevention as you work in your yard or garden, in the garage at your house, at a construction site, or at the factory. With many work gloves, keeping safe means losing comfort. That changes today with the MISSION Cool-Tech Work Gloves. Say hello to your new favorite work accessory. With a rigorously tested ANSI A3 Cut Level Resistance, MISSION's proprietary VaporActive™ Heat-Release Technology releases excess heat so your hands can stay dry, cool & comfortable all day long.
Best-In-Class Grip For Maximum Comfort
Reduce slipping with best-in-class grips — and if they get dirty, don't worry, you can throw them in the washer with your load of laundry. MISSION didn't invent these grips for safety, but we're coming close to perfecting it in these Cool-Tech Work Gloves. Designed with Nitrile Coated Dipped Palms, ANSI A3 Cut Level Protection, VaporActive™ Heat-Release Technology, and mapped mesh for breathability where you need it most. Bonus: Thanks to the touchscreen functionality, you can answer your phone or send a text without removing them. (What did we do before this existed?!)
Safety First: Stay Cool with No Trade-Offs
As the heat of your job or hobby picks up, keep your gloves on longer because they won't get sweaty or downright gross. You'll love the moisture control of the VaporActive™ Heat-Release Technology that releases excessive heat & moisture buildup. Moisture gets drawn away from your hands, so sweaty hands or blistering fingers and palms won't slow you down. These gloves keep your hands dry, cool & comfortable so you can get the job done without constantly taking off your gloves to air out your hands. All without the trade-offs of safety or functionality.
DESIGNS THAT FIT YOU, THE SITUATION AND YOUR ENVIRONMENT